The Author's Exclusive Edition NOW AVAILABLE in either the First Edition or 2010 release of modified Second Printing!

My latest book, Inside The Lionel Trains Fun Factory

by Robert J. Osterhoff
Author's Package
A special package which includes all of the following items:
A

hardbound book

, as issued. At the request of the buyer, the book can be personalized and/or signed by the author.
A

Lionel Patent Archives CD

containing over 450 patent copies -- over 1,600 pages of Lionel and Ives patents and trademarks. This unique archive includes many with the rare patent owner's front page in full color! The CD matches the Appendix listing of Lionel and Ives patents and trademarks in the book!
An original

Lionel stock certificate

from 1963 or 1964---one of the most interesting eras in Lionel history. This same certificate has been offered on ebay for up to $75 alone! This certificate is absolutely original --not a reproduction, and is for 100 shares of stock. Of course Lionel was de-listed in 1993 and can no longer be traded -- it is a neat collectible only.
Price of this Package:
$49.95 + $7.50 Shipping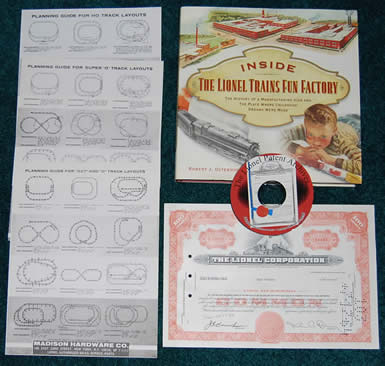 Author's Option #2
A regular hardcover edition of my book signed and/or personalized by the author if requested, is available for $34.95 plus $5.50 shipping. The Patent Archives CD is available separately for $19.95 plus $3.00 shipping or included in the $5.50 shipping when accompanying a book purchase. Orders can be sent to the address below. Payment can be made by check or money order or through Paypal, using email address rosterhoff@charter.net.
Inside The Lionel Trains Fun Factory ~ The History of a Manufacturing Icon and The Place Where Childhood Dreams Were Made Copyright 2008 and 2010 Robert J. Osterhoff, Published by Project Roar Publishing. All rights reserved. No content, including images, may be reproduced in any format without the written permission of the Publisher.